Taeknizon, a fast-growing private cloud provider in the Middle East and Asia, has announced a new partnership with US-based WallPost, a cloud-based ERP solution provider.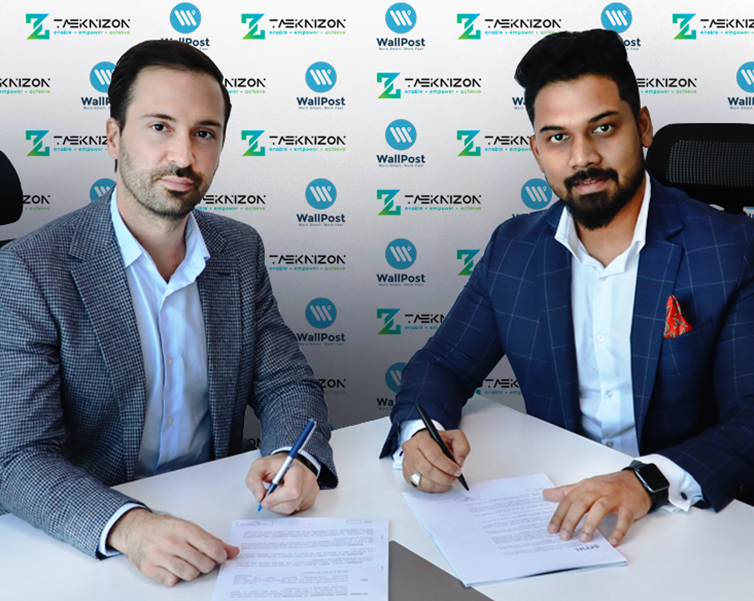 Especially designed for SMEs, Taeknizon will serve as reseller for the solution in the UAE and centralised activation partners for the ME region, excluding Qatar.
Easy to install and supported by free implementation service and 24/7 technical support, the WallPost solution offers a suite of integrated mobile friendly applications which captures, manages and interprets data from across business operations.
By integrating all departments and functions on a single system, users of WallPost can maintain complete control and transparency. This is strengthened by customers receiving the highest level of data security, where Taeknizon will host customer data within its TAEKNI Cloud infrastructure in its Tier 3 data centre within the UAE.
Anithan Chandran, CEO, Taeknizon, said: "Our association with WallPost enables us to offer SMEs in the UAE the benefits of our end-to-end Digital Transformation offerings that are delivered and supported by our local team of cloud experts.
"Additionally, with WallPost ERP software, we are now able to provide ERP-as-a-Service and add another layer to our customers' customisable cloud offerings. This sets us on a path to becoming a one-stop-shop for any organisation looking to digitise their business." Andrew Doxsey, CEO of WallPost, added: "We are extremely pleased to be working with Taeknizon in
Click below to share this article