A renowned line-up of business leaders and technology pioneers have been announced in this year's conference programme for Tech Show London's five co-located events, presented by CloserStill Media.
Tech Show London brings together five free-to-attend events, including Cloud Expo Europe, DevOps Live, Cloud & Cyber Security Expo, Big Data & AI World, and Data Centre World.
The conference will take place on 8-9 March at ExCeL London, featuring engaging keynotes, panel discussions, fireside chats, and workshops.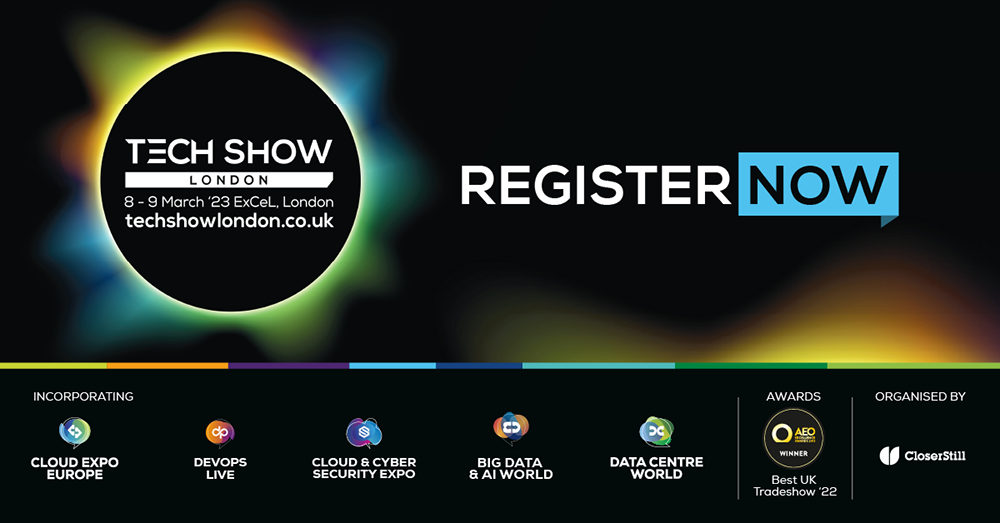 The breadth and depth of the industry across a variety of verticals will be covered, including cloud, DevOps, cyber security, big data, artificial intelligence and data centres.
Tech Show London also includes the Mainstage with a soon-to-be-announced line-up of illustrious speakers who will help audience members tackle the biggest challenges facing their business.
"Knowledge sharing and collaboration are critical within the tech industry. That's why Tech Show London and its co-located events will feature a programme full of speakers representing diverse backgrounds, experiences, and cultures," said Renuka.
Cloud Expo Europe
Top executives from leading organisations will address important cloud topics, including driving digital acceleration, workforce empowerment, cloud migration and monitoring, and sustainability.
Valuable insights will be delivered by:
Gary McAllister, Chief Technology Officer at NHS London, delivers an innovative NHS case study
Jane Gilmour, Group Head of Architecture and Infrastructure at Marks & Spencer, shares her vast experience in developing an effective cloud migration strategy
Sol Enenmoh, Director of Group Digitalisation at HSBC, joins an expert panel exploring how to drive digitisation through empowering people
See the full conference programme and visit the UK's top cloud technology event, Cloud Expo Europe.
DevOps Live
The conference programme for DevOps Live will celebrate the power of DevOps in the workplace and the pioneers who make it happen.
Case studies, panels and tech talks focus on the themes of making DevOps happen in enterprises, harnessing Kubernetes, and adding security into DevOps.
Don't miss these engaging sessions:
The Importance of Intersectionality, with a panel of experts including Lucy Neal and Francesca Pollard of Women In DevOps
Upskilling and Shifting to a Culture for DevOps, including PWC UK DevOps Infrastructure Manager, Prince Boakye
A Vodafone Case Study, with a panel featuring DevOps experts at Vodafone, Ricardo Moreira and Basma Kamal
DevOps Live is the place to collaborate and innovate. View the full conference programme.
Cloud & Cyber Security Expo
Putting a stop to cybercrime requires knowledge of the latest trends and methods used by threat actors, as well as the preventative solutions.
At Cloud & Cyber Security Expo, visitors are invited to address their biggest challenges to their business continuity with expert strategists and executives.
Conquer the cybercriminals together in these engaging sessions:
The Appropriate Response to a Ransomware Attack, with PWC Ireland's Neil Redmond, Katherine Cancelado, and Gayatri Soma
Top 5 Lessons from a CISO, with Apex Group's Ash Hunt
The Human Firewall: How to Create a Culture of Cyber Security, with Florian Jorgens, CISO of Vorwerk Gruppe
Take a look at the entire conference programme ahead of Cloud & Cyber Security Expo on 8-9 March at ExCeL London.
Big Data & AI World
Explore the intelligent future at Big Data & AI World with a stacked roster of technology trailblazers and futurists.
Get ahead of the curve with discussions showcasing exciting digital themes, including decision intelligence, being a disruptor with data, and enhancing customer journeys with AI.
Hear the latest digital trends to level up businesses:
Turning Data into Action for an Enhanced Customer Journey, a giffgaff case study with the Head of BI and Optimisation, Riaz Ali
Building Public Trust in Data, featuring the Director for Data Growth and Operations at the Office for National Statistics, Fiona James
How to make sure your team has the RIGHT skills, with panellists including BT's AI Director, Zoe Webster and Head of Editorial Insight & Analytics at The Times, Emma Wicks
The future is now. Read the full conference programme for Big Data & AI World.
Data Centre World
The data centre community thrives on collaboration and knowledge sharing to optimise critical infrastructures.
The top minds in the industry will share their insights into designing, building, and operating the next generation of data centres.
Visitors will hear ground-breaking ideas and discussions:
Five Skills Essential for the Next Generation Data Centre Employee, with HireHigher Founder, Adelle Desouza and CEO of Colofinder, Steve Hone
How Innovation is Driving Sustainable Operations at Scale, featuring OCP Foundation's VP of Market Intelligence & Innovation, Cliff Grossner
An Amazon Case Study, hosted by Research Director of Techbuyer, Richard Kenny
Explore the conference programme ahead of the largest gathering of data centre professionals at Data Centre World.
Stay tuned for exciting announcements, including the headliners for Tech Show London's Mainstage Theatre!
Click below to share this article